I've seen a lot of bloggers use the "Currently" approach to outline what's on their minds, or going in their lives. Since I can never quite follow the rules exactly – either a strength or a weakness, depending on one's point of view – here's my Monday morning look into what's going on in my brain (always a scary place) and life in general.
Currently, I am…
Happy… that my parents are on their long-awaited beach trip this week. They have been looking forward to this for months. They go with another family – a big one – every year and they rent the same place, eat lots of food, go to the beach, and just relax. They need this so badly, and I'm so glad they're finally there… even if it means I have to suffer through texts that will make me envious all week.
Grateful… that the family member who had the health issue is rapidly improving. Thank goodness for modern medicine.
Baffled… by learning that people apparently move with UPS these days? It's move in season in my apartment complex. That's what you get when you're in a University town with a large academic medical center. July 1 is when residencies and fellowships in medicine start. So it's a huge time of turnover around here, which is great for my people-watching habit. Anyway, I saw this when I went to the package room one day: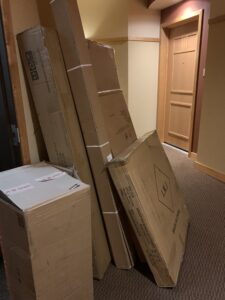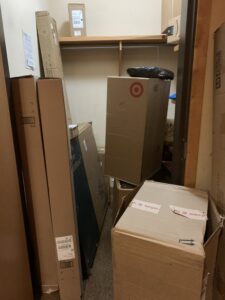 That's the package room and the hallway outside. Yikes. When I went to tell the apartment managers, they told me that people are moving with UPS. Can you fathom how expensive that must be? I was completely baffled. Completely.
Looking forward to… the end of July. I have a two-week intensive online course at the end of the month that I take as often as I can (in person, if possible, of course it's virtual this year…). I love it, and cannot wait to learn more about my favorite topic.
Feeling… a bit overwhelmed by the fact that I have not one, but two coffee dates, this week. Yikes. With people I like, but still. That's a lot for someone who's still feeling her way into the world post-pandemic. I am also planning lunch with my mother in law (much-delayed, and feeling guilty about that) so it's going to be a socially overwhelming week for me. I might be a hermit next week. 😉
Ready… to get this week started! Have a wonderful one, whatever you are up to!